Thursday, December 28, 2006
Ho ho ho...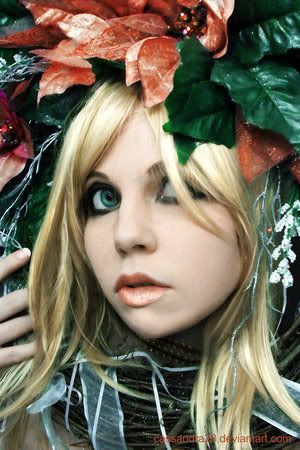 A new manipulation I did today in the (belated) spirit of the holidays. Ain't she purty?
Christmas is a busy time of year for most people, but as one half of a newly engaged couple who have one half of the combined family in a different state, it's been spastically busy.
On the marriage front, we've secured a venue for the wedding and reception (we're hoping to get married in the courtyard there - it's a rather popular Canberra hotel), and I've started looking at wedding dresses. I've also emailed a few photographers, though only one has gotten back to me so far.
My parents have also agreed to host an engagement party next month, so we will get to organise that soon. It should be fun, I hope! :D
On the Christmas front, we finished our shopping about two weeks before Christmas (the mall was scary, and we got there at opening time!!). Christmas Eve we had a late breakfast with my parents and sister, then drove up to Sydney just after midday. Christmas day was a BBQ with M's family, which is quite a bit bigger than mine - about twice as large, and they weren't even all there! :O
Boxing Day we drove home first thing in the morning, waved hello to the dogs, and then went to a mate's place for our now traditional (it's been three years in a row!) post Christmas left-overs BBQ. It was awesome.
So yesterday, my first day of actual holidays (despite having been on leave since Friday), I spent all day playing Warcraft. Today we went shopping (I got a giant stuffed elephant as a Chrissie present to myself!), and when we got home I played with Photoshop (as above) and tidied up my
deviantART
page. It's been SOOOOO good.
I am off work till 8th January. And I need it. Since I started this new job in August, things just haven't stopped. What's more, there've been some changes in the management there that mean I don't enjoy working there as much as I thought I would. I miss my old job - I was good enough at it that even though it was busy I could do it with one hand tied behind my back.
Rassenfrassen.